JUNE NEWSLETTER
All of our locations are currently OPEN!
Please practice social distancing while in our stores, and try to avoid contact with anything you are not buying.
We are still offering curbside pickup for those who would like to use it.
To find the location closest to you, please go to the Store Locator page on our website or
CLICK HERE!
**Please note that due to unforeseen circumstances we must place quantity limits on some items **
Aegis X ZEUS Kit

by

GeekVape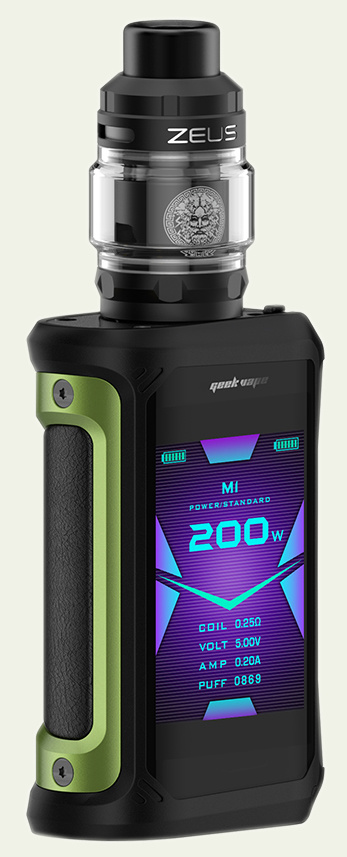 The Aegis X ZEUS Kit is the perfect combination of durability and elegance! It is IP-67 rated for water, shock and dust resistance and offers your choice of 5 to 200 watts of vaping power. Just when you thought the Aegis X couldn't get any better, now it comes with a ZEUS sub-ohm tank to deliver amazing flavor puff after puff after puff! Check it out now!

 

Aegis POD

by

GeekVape

The Aegis POD system is the most durable device of its kind to date! Using GeekVape's G ST coils, the Aegis POD can really pack a punch and deliver an excellent vape all day long. It is also designed with convenience in mind, so it is the perfect size for the coin pocket of most jeans!

 
RPM80 Kit

by
SMOK
With double the available power of the original RPM 40, the RPM 80 brings a number of additional upgrades to the table including compatibility with pods designed to use either RPM or RGC coils, the inclusion of Smok's IQ-80 chip, and a variety of stunning new finish options! Try it today!
Renova ZERO

by
Vaporesso
The Vaporesso Renova ZERO Ultra Portable Pod System presents a beautifully crafted device built for simplified operations, integrating a 650mAh rechargeable battery powering the OMNI Board Mini and the PCTG Refillable Pod.

 

Juice Head

FREEZE

Your favorite

Juice Head

flavors, now with menthol!

Blueberry Lemon FREEZE

Inhale for classic hand-picked, sun-ripened blueberries, and then exhale for a clean and airy lemon finish. The lush aroma of this berry citrus fusion swirls creamy tart hits with tang into a quality refreshment sure to make the freshest of clouds.

Strawberry Kiwi FREEZE

Strawberry Kiwi by Juice Head eLiquid is succulent ripe strawberries and tangy, fresh kiwi for a refreshing authentic fruit taste. The inhale is the taste of delicious ripe strawberries followed by an exhale filled with the fresh kiwi fruit.
SAVE 10% OFF BY SHOWING THIS COUPON IN STORES ON YOUR PHONE
OR USE THE CODE BELOW AT CHECKOUT FOR A DISCOUNT OF  10%  
 "

FREE BIRD

"
SAY HELLO TO SUMMER TIME!

-

MAGIC VAPOR SHOP!